Going Maps
It is a well known fact that the state of the ground or the 'going' can have a huge impact on the performance of a horse - in fact, other than the animal's fitness and wellbeing, it is one of the two most important factors in how the horse performs on race day.
Providing owners and trainers with a detailed, accurate and up to date representation of ground conditions ahead of key entry and declaration stages is invaluable in informing their decision whether or not to run a horse.
Using a standardized and systematic approach to each going report helps to build up a highly detailed audit trail for Racecourse Clerks and Groundstaff. When used over a sustained period of time this audit trail provides a database of information on which future course management decisions can be made.
Methodology and Course Set-up
Initially a full DGPS, (Differential Global Positional System), survey will be carried out on course by TurfTrax.
This typically involves a 1 - 2 day site visit and will accurately map the outline of the course as well as all key features including starts, furlong markers, finish lines and fence positions where appropriate.
Along with the DGPS survey a full EMI soil scan and topography survey can be included. This information is used to build up a picture of the course and identify where there is likely to be variability in going.
The EMI and topography scans themselves are useful tools for any planned changes to course layout, design and/or drainage projects.
Once the initial survey is completed and fully analysed the Going Grid map is prepared showing each area in which GoingStick or Official Going readings should be taken, to produce an overall map. We will always consult with the course to decide upon the best grid configuration.
The course will be provided with all survey and grid maps both hard copy and electronically and a second site visit will be made to place reference numbers on the running rail and to train course staff how to use the system.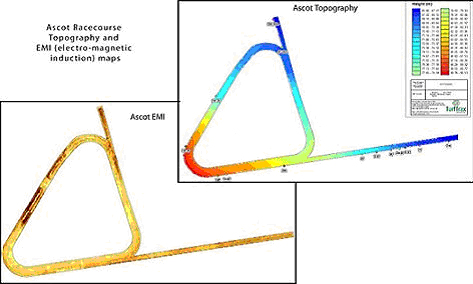 Map Distribution and Support Service
A key part of the system is the publication and distribution of the Going maps and information; there are a number of methods for doing this:
Typically the map is displayed on the TurfTrax website with a direct link on the Racecourse website which updates automatically with each going report.
TurfTrax have a large database of trainers - both e-mail addresses and fax numbers, so that Going Maps can be distributed directly ahead of entry and declaration stages. This provides an excellent opportunity for the course to remind trainers of a forthcoming race meeting and perhaps increase entry numbers.
Additionally SMS text messages can be used to alert trainers, this method is particularly useful for last minute going changes or inspection/abandonment information.
TurfTrax Going Maps have been used by The Racing Post, BBC, Channel 4 and AtTheRaces for major race meetings. The system is supported 365 days a year and TurfTrax will contact the racecourse at the 6 day entry stage, 48 hours, 24 hours and on the day of the race to update the going report and distribute to trainers if necessary.
The Going Maps are sent to all the leading UK, Irish and French trainers. A bespoke list can be agreed with each Racecourse ahead of distribution.
Proactive distribution of Going Map's and information is an excellent PR tool for any Racecourse and can relieve some pressure on course staff handling ground enquiries.
The Going Map is an enhancement to the Racecourse website and provides an interesting and valuable piece of information for punters ahead of their racecourse visit.
The Going system is fully endorsed by the Horseracing Regulatory Authority and has been used for the vast majority of major race meetings in the UK for over 5 years.
The TurfTrax Going Map can be generated using the GoingStick but a mapped Going Report can be distributed without the aid of the GoingStick if necessary.